Hotel Rural da Herdade da Poupa ****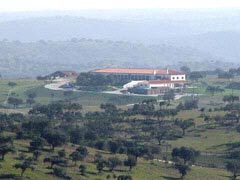 The Hotel is surrounded by a natural wild landscape where parity can be lived intensively.
Silence, natural beauty and the green slopes surrounding are attributes that will always be present during every moment of a stay at the Hotel.
General information, services and equipments
The Hotel is located in Rosmaninhal, about 55 Km from Termas de Monfortinho, byside of the river Tagus. 2 Superior Rooms, 12 Double and 2 Suites, with Tv, direct telephone, air conditioning and Internet. We have a Restaurant and Bar.
Outdoor activities
Hunting, Photographic and 4x4 Safaris, Pedestrian Routes, Mounting Climbing and Bird-Watching.
"Best European Country property of 2007"
Herdade da Poupa was "Best European Country property of 2007", for its contribution for the preservation of natural resources. This prize is attributed by the Anders Wall Foundation, in set with the "Friends of The Countryside" (organization of European agricultural proprietors) and with the high sponsorship of the General Direction of the Environment of the European Commission.
Since 2002, the Anders Wall Foundation (Sweden), Friends of the Countryside and the DG Environment of the European Commission give an award each year to encourage and promote efforts made by creative entrepreneurs who have contributed to creating a ﳩtive rural environmentଡndscape preservation, biodiversity enhancement, cultural heritage conservation and contribution to the rural economy.